HR rookgasafvoer naast VR rookgasafvoersysteem 15 appartementen
Projectdetails
---
Rookgasafvoerrenovatie VvE complex
---
Installeren van een compleet nieuwe HR rookgasafvoersysteem in 15 woningen
---
Nijmegen, Gelderland
---
De Vereniging van Eigenaars
---
december 2017
---
De vervanging- of aanpassing van een rookgasafvoersysteem gaat veelal hand in hand met het verketelen van alle woningen in een complex. Omdat VR- en HR CV toestellen, en diens verschillen in stooktechniek, niet samengaan de zelfde rookgasafvoer, worden dikwijls alle aanwezige VR toestellen vervangen voor HR hoog rendementsketels, bij aanpassing van het gezamenlijke rookgasafvoersysteem.
---
---
Het nieuwe HR-systeem naast het VR-systeem
In dit geval is niet gekozen voor aanpassing van de huidige rookgasafvoer, maar voor een geheel nieuw opzichzelfstaand HR rookgasafvoerysteem, waarbij het VR rookgasafvoersysteem in tact blijft. Op deze manier kunnen de huidige VR CV ketels blijven functioneren en hoeven deze niet meteen te worden vervangen.
Wanneer een van de bewoners besluit een HR CV combiketel aan te schaffen kan deze op het nieuwe systeem worden geïnstalleerd. De vervallen, loze aansluitingen op de VR rookgasafvoer komt dan te vervallen.
Het VR rookgasafvoersysteem blijft zo lang als nodig in tact en zal aan zijn jaarlijkse controle en inspectie worden onderworpen. Wanneer alle VR toestellen uit het complex zijn verdwenen, kan het kanaal van de oude ongebruikte en loos geworden rookgasafvoer verder dienst doen als schacht voor verdere verduurzamingsmaatregelen zoals de doorvoer van bekabeling voor zonnestroom, leidingwerk voor zonneboilers of voor de doorvoer van kabel- en leidingwerk voor lucht- warmtepompsystemen.
Deze werkzaamheden zijn door DTNL Innovative verzorgt inclusief het benodigde boorwerk, Het aanbrengen van de nieuwe rookgasafvoer leidingen en de aftimmering- en afwerking in de woningen.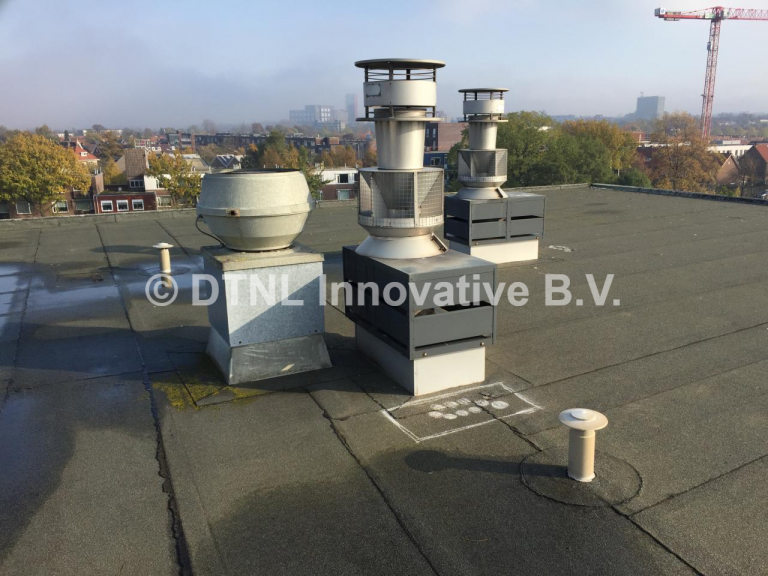 ---
Wilt u meer informatie over rookgasafvoer of rookgasafvoersystemen?
Neem contact met ons op, wij vertellen u graag meer.
---
DTNL Innovative B.V.
– Installatietechniek
– Dakbedekkingen
– Energiebesparing
Adresgegevens:
DTNL Innovative B.V.
Da Vincilaan 35
6716 WC  Ede
Telefoon en email:
T 0318 – 85 00 33
E info@dtnl.nl