Plat dak isoleren van een dakterras
Opdracht:  Plat dak isoleren dakterras
Werklocatie: Veenendaal
Omschrijving
Nog steeds gelden voordelige BTW tarieven (6% i.p.v. 21%) voor isolatiewerkzaamheden aan bestaande woningen. Bij het plat dak isoleren van dit dakterras is buiten een nieuwe dakisolatie ook een compleet nieuwe dakbedekking aangebracht. Door het plat dak isoleren houdt men de warmte binnen in de winter, en door de lichte dakbedekking en nieuwe gladde betontegels, de warmte weer buiten in de zomer. De oude dakbestrating en mastiek dakbedekking zijn door ons volledig verwijderd. Nadat er een dampremmende folie op het gestripte houten dakbeschot is aangebracht hebben we het dak voorzien van een flink pak thermoreflecterende PIR-schuim dakisolatie. Een polyestervlies scheidingslaag en een nieuwe lichtgrijze Renolit Alkorplan kunststof dakbedekking zorgen ervoor dat het dak weer jaren mee kan. Om het geheel af te werken is er een nieuwe gladde betontegel dakbestrating aangebracht. Andere opties zijn echter mogelijk. Denk hierbij aan aan bijvoorbeeld mos-sedum (groendak), hardhouten- of composiet vlonders, tegels in een ander formaat of kleur of een combinatie hiervan.
Specificaties
Complete sloop tot op het kale hout
PIR schuim thermisch reflecterende isolatieplaten
Renolit Alkorplan kunststof dakbedekking
Dakrandafwerking in RAL kleur
Dakterras van lichtgrijze gladde betontegels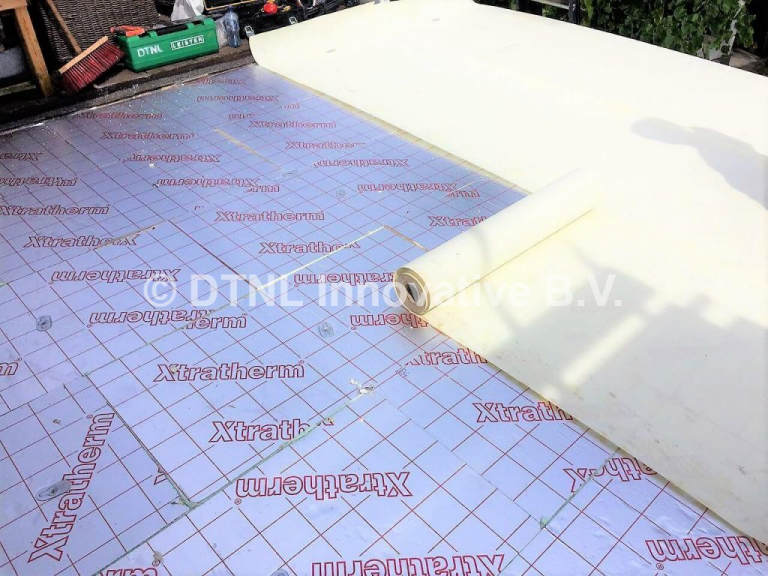 Wilt u meer informatie over een plat dak isoleren?
Neem contact met ons op, wij vertellen u graag meer.
---
DTNL Innovative B.V.
– Installatietechniek
– Dakbedekkingen
– Energiebesparing
Adresgegevens:
DTNL Innovative B.V.
Da Vincilaan 35
6716 WC  Ede
Telefoon en email:
T 0318 – 85 00 33
E info@dtnl.nl